Me in a me-made dress, with one of the buttons
I have decided to start writing about my button experience. I have been selling sewing supplies for over two years now and I have learnt a lot in the course. I would love to share this knowledge, as well as experience with any button lover, retro sewist, or anyone wishing to pop in and take a look.
It all started when my fiancee brought a handful of weird vintage buttons home. I was fascinated! They were so different from whatever I had seen! And most importantly, they were huge! And... he said there were thousands more. I wanted to see them all, of course, and the next thing I remember was venturing along the dark corridors to the abandoned house which belonged to his grandma. To have the full picture of what kind of building it was, you should know that it is not an old cottage, lost somewhere in the hills, where no road leads. Not in the least. It is an old hotel in one of the main streets of our town, Ourense. Perhaps the hotel part is a bit run-down, but there are two prospering shops on the ground floor. And this is where the buttons originally come from.
This was that original hadnful. I still have some of the buttons, like the one in the lower right corner, which I made into a necklace. The scissors are here to give you an idea of the size of the buttons, though I use something else for that now.
In late 1950s a lady opened a haberdashery in one of the shops. I can't tell you now how the business was doing, but a few years later, in 1962 or 1963, the lady decided to marry and moved to a different town. The shop was closed and whatever stock she could sell was gone. However, there were lots of boxes full of buttons, along with some beautiful buckles, which did not find a buyer and were put upstairs, where her family lived. Years later, the family, which had had a successful bakery business next door to the haberdashery, retired and also moved out, selling their part of the building to the hotel owner. When she discovered the button tresure, she let it be where it was, in a small dark room upstairs, as she was a practical woman and knew she might need one or another button someday. Had she needed that room, the buttons would have been out long ago. But she didn't.
Buckles in their original boxes
When I got my hands on the buttons, they were still in the same boxes, piled up on an old piece of furniture, I guess from the haberdashery. It was so exciting! Of course, we were not able not take all of them at once, which may give you an idea of how many there were.
The buttons outside the boxes required cleaning, but those stored inside them were perfect. Some were still on button cards, a thing I had never seen before. Then, with thousands of buttons in my possession, I stared wondering: what am I going to do with them all?!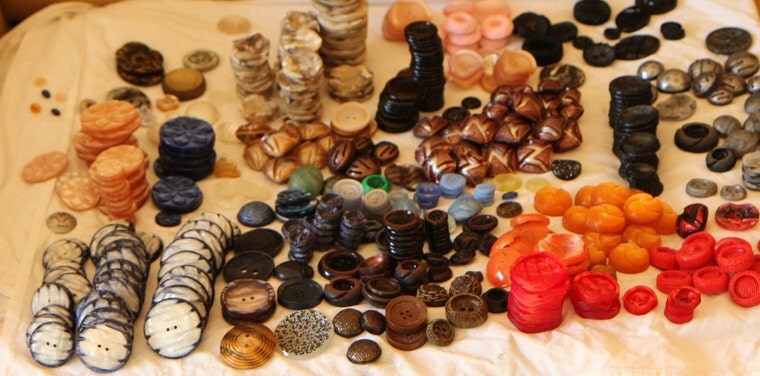 Just a small part of my button treasure. Most buttons you see here have sold out.
I am a sewist and I love sewing retro. I used to make a lot of the stuff. But even if I dedicated all my time to sewing, I would hardly find use for all the buttons. Then an idea crossed my mind. Etsy! Until then, it had been my primary source of vintage sewing patterns, some to use and some just to admire. But why not sell part of the button treasure?
I decided to invest just
€5 as
I didn't want to risk. If I sold anything, it would be great. If not, I can spare the €5. And that's when it took off!
Initially, my idea was to sell just some of my buttons, but I was encouraged when I met other people, even more passionate about buttons. I also met someone who had an even larger treasure of vintage buttons and wanted to sell them, so they asked me for help. Could I possibly have said no?
Now I regularly search the Internet for similar deals. Need to get rid of that box your granny or someone else stored for all those years? Someone closed down a haberdashery long ago and couldn't find a buyer for the buttons? That's when I step in, to save the old unused buttons, which may turn out to be really valuable. You wouldn't believe what treasure thinly avoids ending up in a landfill! And just because someone does not know what to do with it and needs to clear a space...